This article needs expanding.
This article is missing important details (e.g. plot details from recent episodes). You can help Casualty Wiki by expanding it.
Will Noble is a consultant in paediatric emergency medicine who currently works in the emergency department of Holby City Hospital. He joined the department in 2019.
Biography
Early life
When Will attended university, he became friends with Ethan Hardy. (CAS: Series 33, Episode 29)
Arrival and meeting Toby
In March 2019, Will arrived at the ED as a locum and ingratiated himself with the staff by getting to know them and offering them drinks. In resus, he treated a teenage boy named Toby who had sustained a cut after falling off a stationary train carriage and didn't want his mother Jackie to find out. Will became concerned about his blood not clotting and, upon reviewing his medical records, learned that he had myelodysplastic syndrome. Once Toby's test results came back, Will insisted on bringing his mother in before discussing his diagnosis, but Toby soon figured out that he had developed leukaemia. Toby opened up to his friend Cassie about his illness, and she helped Will convince him to contact Jackie. Jackie soon arrived and tried to take over Toby's treatment, but Toby told her that he was doing it his way and implored her to go home to look after his brothers.
As Will took Toby to the lift so he could attend his chemotherapy session, he promised to visit him once his shift finished. Later, Connie informed him that there was a vacancy for a full-time consultant post, but he declined it. Archie reminded him that he was supposed to keep Toby company during his chemotherapy session, and Will rushed to the wards. Unfortunately, he was too late, and Toby insisted on being left alone. As Will left the department, Archie admonished him for his irresponsibility, prompting him to go to Connie's office and apply for the consultant post. (CAS: Series 33, Episode 29)
In April, on the day of Will's interview for the consultant post, Toby was admitted to the ED with an infected nipple piercing. Will insisted on treating him, but Toby continued to resent him for not visiting him during his chemotherapy session and demanded to be seen by another doctor, prompting Archie to take over. Later, Will asked her about his condition, and Archie told him that Toby's cancer had become terminal. He decided to break the news to him and Jackie, but the latter refused to believe that her son was dying. After Will removed the piercing, Toby told him that he hadn't forgiven him, but Will promised to be there for him. Toby gave him his "rebel list", and Will noticed that one of the things mentioned on it was the school prom. Knowing that he was not well enough to attend, Will secretly organised a surprise party for Toby in the hospital. In a corridor, Jackie passed him and told him that she and Toby were grateful to him. However, when she said that she was going to the vending machine, Will noticed that she was going in the wrong direction. At that moment, Connie called him in the interview, but he told her to wait. Outside, he found Jackie breaking down, and she accused him of encouraging Toby to give up on life, but she immediately apologised. He promised to help him in any way he could and told her that he had planned a surprise for him.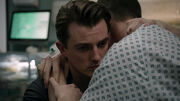 In HDC, Will started playing music on his phone and gave Toby a bowtie. After Will thumped the walls, Toby was delighted when his friends from school, including Cassie, burst in wearing their prom attire. Outside the cubicle, Archie apologised to Will for calling him "irresponsible" earlier that day, and he told her that he was sure that Connie would give him another interview if there were no other suitable candidates. After the party, Toby hugged Will and asked him to help him die if his pain became unbearable. (CAS: Series 33, Episode 32)
Behind the scenes
Jack Nolan made his first appearance as Will Noble in March 2019.
Appearances
See also: Character appearances and Category:Will centric
Will first appeared in the 29th episode of the 33rd series. To date, he has had 3 centric episodes.