This article is not part of the Holby universe.
This article covers a subject that is part of the real world, and thus should not be taken as a part of the Holby universe.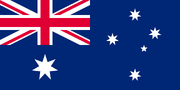 Australia is a country comprising the mainland of the Australian continent, the island of Tasmania and numerous smaller islands.
In 2000, Tina Seabrook followed Sean to Australia where they ended up getting married.
In 2004, Lara Stone gets a one way ticket to Australia after cancelling her wedding to Simon Kaminski at the last minute.[1]
Jamie Collier leaves the department and goes with his boyfriend Ramin to Australia in 2014.[2]
Ethan Hardy began looking for jobs in Australia in January 2016, before reconsidering his resignation and deciding to stay.[3]
References
Edit