This article needs expanding.
This article is missing important details (e.g. plot details from recent episodes). You can help Casualty Wiki by expanding it.
Alicia Munroe (born 19 September 1989)[1][2] is a paediatric specialist registrar who worked in the emergency department of Holby City Hospital from 2015 to 2019. She initially joined the department in September 2015 and was due to work there for a 4-month rotation as a part of her foundation training.[3] However, she departed in mid-November after less than two months due to Lily Chao's bullying.[4]
In August 2016, she returned to the ED just as the staff were preparing to celebrate Charlie's 30th anniversary. Although she was only there on a locum shift, Connie informed her that she was welcome to stay on for the remainder of her placement, something which she later decided to do.[5]
Early life
Edit
Alicia lived in Newcastle with her parents during her childhood and teenage years.[6] She initially went into medicine as she wanted to make a difference for people. Growing up, her father showered her with attention, one of the reasons why she stayed in Newcastle to study so she could live at home.
Time in the emergency department
Edit
On her first shift, Alicia was paired with Lily to act as a mentor to her. When Alicia appeared to have had a good impression on the rest of the staff, Lily became annoyed as she had failed to do so when she was an F2. At the end of Alicia's shift, Connie revealed to Lily that she thought Alicia was a "breath of fresh air", which further angered Lily.[3]
The following week, some extremist attackers spread into the ED, stranding Alicia in resus with Max and Louise while the building was evacuated. Alicia managed to perform a risky operation which saved the patient, and Lily was annoyed that she had done it as she wasn't experienced enough, but the rest of the team were pleased with her efforts.[7]
Following Lily's father's death in October, she was especially temperamental at work and it was Alicia who felt the wrath of this. When Lily was trying to realign a patient's broken ankle, she made a mistake which resulted in Lily calling Connie in. However, Lily soon became jealous when Alicia was praised for her quick thinking.[8] The following week, Connie expressed optimism to Alicia about her medical career and advised her to take her MCEM exams as soon as possible. She later asked for a senior member of staff to file a report on Alicia, and Lily was quick to volunteer. During her shift, Alicia performed an unfamiliar procedure to relocate a man's shoulder who'd been run over in a scam which had gone wrong, which irritated Lily. Later in the day, Alicia once again showed her instinct and was correct which caused Lily's jealousy to peak. When Connie asked Lily if everything was okay, she told her that she though Alicia wasn't ready for her exams and was overconfident. Connie later informed Alicia that she should perhaps wait a little longer before taking her MCEM exams.[9]
In November 2015, Alicia walked out of the ED in search of a young boy who had gone missing whom she was meant to be looking after, but soon found herself embroiled in a hostage situation. She ended up in the back of a van treating a young man for severe bleeding whilst the man who did it was outside trying to get in. She was eventually able to get the patient back into the ED safely, although Connie and Lily were both extremely annoyed with her. She later decided to email Connie informing her about her immediate resignation, emotionally overwhelmed and distraught as she reflected on her time in the ED. Her resignation was down to Lily's harsh manner towards her which quickly turned nasty and despite Lily perhaps having been oblivious to the extent, Alicia at least regarded it as bullying.[4]
Alicia returned to the department in August[10] 2016 for a locum shift just as the staff were getting prepared for Charlie's 30th anniversary celebrations. When Connie noticed Alicia, she informed her that she was welcome to stay on to complete the rest of her placement which she'd never completed. Alicia was paired up with Lily once again and although she was initially dreading it, Lily was exceptionally friendly to her. Later in the shift Alicia confronted Lily and told her that although she could put what happened behind her, they were never going to be friends.[5]
Alicia later told Charlie that she'd take up Connie's offer, and decided to continue working there. Louise was delighted with her decision to stay in the department, as was Charlie. Alicia was also relieved that her and Lily were able to get along through their shift, although Lily wasn't aware that Alicia would be staying on.[5]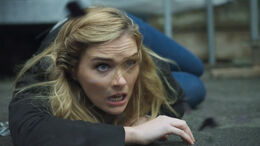 Alicia attended Charlie's 30th anniversary party across the road at The Hope & Anchor later in the day along with other staff members. Ethan attempted to flirt with her, but was unsuccessful as she left to go and get a drink at the bar. Cal encouraged him to show her his vulnerable side. After the news of Connie's accident got back to the staff and they were waiting for Grace to arrive, Alicia went to wait outside the ED and Ethan followed. However, shortly after the helicopter carrying Grace was hit by a drone and crashed down near the entrance of the department. It sent an ambulance rushing forwards which crashed into some scaffolding which collapsed on Alicia and Ethan. Alicia was initially fearful for Ethan when he was unresponsive, but she was relieved when he just had a leg injury. She was able to treat him there, at the same time he told her the origin of his nickname from Cal, "Nibbles", something which she wasn't even aware of. They were eventually able to get a long pole and activate the siren from inside the ambulance which was also under the scaffolding, and Cal and the paramedics came to their rescue. Later in the day as the staff were preparing to stay and help clear up, Ethan told Cal that showing his vulnerable side had backfired, but Cal proved him wrong when he showed Ethan how Alicia was looking at him.[11]
Just a week later, Alicia's parents were in the ED as her mother Jackie was suffering from stomach pains. By this time, her parents had moved down to Holby from Newcastle. She encouraged Alicia to give it a go with Ethan, but her father Howard advised her to be more cautious. Alicia informed Ethan that her parents had only just got back together after going through a rough patch. It later transpired that Jackie had contracted gonorrhoea, which left Alicia upset. She shared a deep conversation with Ethan on the roof of the hospital which brought them closer together. Howard later confessed to Alicia that it was him who was having the affair, not her mother. She was furious and her father later said he'd leave this time. After their shift, Ethan and Alicia had drinks in the pub and he informed her that he'd been able to secure her a place living with Jez and Max in their flat. However, she left him heartbroken when she left the pub with another man.[6]
Later in the month, Ethan and Alicia were once again thrown into work together when Elle requested that they go along together to the scene of a fall. They arrived to find that they'd have to be lowered into a confined dark underground cave system together, something which Alicia showed apprehension about. However, Ethan was able to calm her down when some rubble started to fall down and as they were being taken to the surface the pair almost shared a kiss. Once back at the ED, Lily treated Alicia's small arm injury and saw that she had taken an interest in Ethan. After work, Alicia suggested that they went back to her place, where they opened a bottle of wine. Despite Ethan's hopes that they would be spending a quiet night in, Alicia drank too much and ended up being sick and Ethan was left to get her into bed.[12]
The following day, Alicia attempted to avoid Ethan at work. However, she soon caught onto the fact Max and Jez had a competition between themselves about who could kiss her first. Taking the opportunity for revenge, she took a drunken Max and put him in bed next to Jez naked.[13] The next morning, Jez and Max woke up confused much to Alicia's amusement. It was also Alicia's birthday, and Ethan had planned a party for the evening after work. However, when he overheard her saying how she was enjoying being single, he told her he couldn't come to the party. Despite this, he later decided to go to the party when speaking to the patient whom he had rescued from the cave just days before. When he arrived, he was distraught to find Alicia kissing Cal and they later had a one night stand.[1]
By early-October, things were still awkward between her and Cal following their one night stand. However, he was offended when she was so opposed to the idea of doing it again and rated him six out of ten. However, he later got back at her and said she wasn't that good either. Alicia's day didn't get any easier as she was trying to contact Lily to apologise for lying to her about the party but couldn't get a response. She saw Iain in reception and he called her up on how she treated Lily. Towards the end of the day, Lily arrived at work and Alicia got the chance to apologise in person. Although Lily accepted her apology, Alicia told Lily that she thought Iain had a thing for her. Alicia also discovered an old image of Jacob during the shift and it soon spread around the department.[14]
Later in October, Elle gave Ethan two tickets to the hospital's awards ceremony for that evening and hinted that he take Alicia. Although Cal tried to get the tickets from Ethan so he could ask Alicia to go with him, Alicia later accepted to go with Ethan. However, a chat with a patient made Ethan reconsider his decision and he let Cal go instead. Alicia was surprised to find Cal waiting for her in the taxi but ended up going nevertheless.[15]
Later in October after spending a night together, Alicia declined to meet up with Cal that evening. He took it personally and was offended, so he bluntly made her realise that she hadn't been serious about anyone recently. Cal later found her crying and comforted her assuming that it was what he said that had upset her, but it transpired that she'd just been on the phone to her mum who was upset about her dad. Later in their shift, Alicia and Cal managed to work together to save a patient, and later agreed to meet at the pub after work. Once there, they decided to try to give their relationship a go.[16]
In November, Alicia gave Ethan some advice on his online dating profile which made him realise how well she knew him. She was also annoyed with Jez and Max for changing her profile to say that she was pregnant, something which shocked both Cal and her mother when they initially found out.[17]
The following month, Ethan was growing tired of Cal and Alicia's relationship due to his feelings towards her. She sent a message to a woman named Penny on his dating profile in the hopes that she'd go along to the work Christmas party that evening. Whilst enjoying their day off at the Christmas market, a girl fell from a balcony and into Cal's army which led to them both being admitted to the ED with minor injuries. Whilst there, Alicia treated Ethan after he'd been hit in the face trying to break up an argument. That evening at the party, Penny left after noticing the way Ethan was looking at Alicia and Ethan realised that he didn't want to be with anyone else. Back at the flat, Ethan finally admitted to Alicia that he was in love with her after Cal had fallen asleep.[18]
On New Year's Eve, Cal had returned from The Bahamas where he'd spent Christmas, leaving Alicia back at home with her parents. Ethan became annoyed with Cal during the shift because of the way he was speaking about Alicia, presuming that she'd been interested in other people whilst he'd been away. That evening, Ethan turned up at Alicia's house looking for Cal, when he realised that he'd stolen his proposal for a South African research trip. In anger, Ethan told Alicia about all of the things that Cal had done to him over the years, and she began to sympathise. He reiterated what he'd said before Christmas, and finally kissed Alicia, not willing to let Cal walk over him anymore.[19]
The following day, Alicia and Ethan woke up together but were startled when Robyn needed to borrow something of Alicia's. In the rush, Ethan hit his knee on the radiator, but Alicia quickly tended to it when they were at work. Whilst treating a patient, Duffy began having suspicions of Alicia and Ethan's romance, and encouraged her to do whatever was in her heart. Alicia and Ethan prepared to tell Cal later in the day, but at the last minute Alicia backed out and pretended they were talking about something else. That evening, Alicia found that she couldn't spend the night with Cal and when she got out of bed, Cal noticed a cuff-link on her bedroom floor.[20] Cal spoke to her the following week but she assured him that she wasn't seeing anyone else.[21]
Later in the month, Alicia arrived at her parents' house, surprised to find that her mother had taken her father back. Shortly after, a family friend, Martin, arrives at the house and Howard asks him to leave. Whilst driving off, he accidentally crushes Howard into a skip on the drive. the paramedics arrive and free him, but Jackie also sustains a head injury. At the ED, it transpires that Martin was the one who her father had cheated with. Meanwhile, Cal and Ethan discovered a secret phone in Alicia's locker which she'd been texting a mystery man on, and they agreed to meet him outside the ED. Upon arriving there, they discovered Max and in anger Ethan punched him. Alicia interrupted and revealed that it was just a prank she was playing on Max, but she later forgave Cal when he performed a procedure to save her father's life.[22]
The following day, Alicia attended Charlie and Duffy's wedding reception. However, when Cal caught sight of she and Ethan talking, he kissed the pole dancer whom they'd met on the stag party the night before. Alicia was furious and angrily stormed off, irritated that she'd given him a second chance, and ended their relationship. Nevertheless, both Alicia and Ethan remained oblivious to the fact that Cal knew about their fling.[23]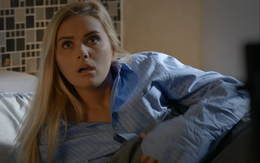 In April, Alicia woke up in Sam's bed, and was shocked when he made her get the bus to work. He announced budget cuts once he got there, and Alicia felt irritated and angry that she'd slept with him, considering that he was now on the bad side of all of her colleagues. During the shift, Alicia became involved in a dangerous situation with one of her patients, and ended up hitting the attacker with a fire extinguisher to defend her. Sam spoke to Alicia after the shift, revealing that they didn't actually sleep together, but that he would struggle to defend her when telling the story to the board about the events of the day. After the shift, Alicia and Ethan chatted outside the ED, and decided that it was best for them not to go out, considering that she'd had a relationship with Cal.[24]
Later in April, Alicia agreed to go ahead with Cal's proposed work-to-rule action for the junior doctors in an attempt to stand in solidarity with the consultants following the budget cuts. However, Alicia was shocked to discover some revealing photos circulating online, with her face imposed upon them. She initially suspected it was Jez who was playing a trick on her, but was humiliated when Cal later accused Sam.[25]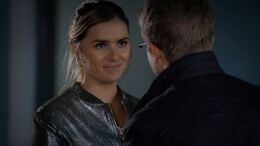 The following week, the day of the strike arrived and Cal soon became irritated that Alicia and Ethan weren't taking it as seriously as he'd hoped. They told Cal that he was making it too personal against Sam, which prompted him to angrily inform them that he knew that they slept together whilst he and Alicia were going out. Iain also discovered that Gemma was responsible for the photos the previous week, but Alicia never found this out.[27] When Roy Ellisson died in the ED, Cal advised Ethan and Alicia to leave the ED, as his aggressive son was out to get Ethan, accusing him of causing Roy's death. Cal also gave Ethan his blessing for him to date Alicia. They headed across the road for a drink in the pub, but whilst they were in there, Roy's son Scott fatally stabbed Cal outside the ED. Max found them in the pub and urged them to return to the ED, by which time Cal had died.[26]
By early May, Alicia continued to support Ethan in the aftermath of Cal's death. Ethan returned to work against her advice, and she spent the shift worrying about how he would cope. Alicia joined Charlie and Ethan in listening to the voicemail that Cal had left Ethan just before his death. The police agreed to bring Scott in for questioning, despite the little evidence they had. At the end of the day, Ethan almost ran Alicia over in the car park. Sensing that Ethan was still in shock about the events of the day, she assured him that the voicemail didn't mean that he was the one who should have died. They shared a kiss, and she promised to support him so they'd get through it.[28]
In June, Ethan was shocked to hear that Scott had been released from custody due to lack of evidence. When Scott turned up in the ED later that day, Alicia was forced to intervene when Ethan began fighting with him. Ethan later sought comfort with Alicia, who reminded him that whatever he did to Scott wouldn't bring Cal back.[30] Later in the month, Alicia attended Cal's funeral with various other members of staff from the ED.[29]
Towards the end of June, Alicia became more concerned about Ethan when she discovered that he'd been making regular visits to one location and keeping watch outside Scott's flat. She eventually caught him in the act and thought she'd finally got through to him when he agreed to stop.[31] Later, Alicia received a phone-call from a refugee charity asking to speak to Cal. It transpired that Cal was raising money and planning to visit a camp in France to deliver supplies. Inspired by Cal's efforts, Louise informed Alicia that she would begin to organise a fundraiser.[32]
In July, Ethan continued his crusade against the Ellissons and convinced Jez to let him see Mickey, Scott's brother. Mickey refused to speak, so Ethan threatened to expose Mickey's sexuality to his right-wing family. Ethan later got angry with Alicia as she'd known that Jez was dating Mickey the whole time. When Ethan overheard Jez speaking with Alicia, he rung Scott. Alicia attempted to get the phone off him, but he accidentally pushed her to the floor. Although Ethan eventually decided not to phone Scott and he and Alicia made up, she told him at the end of the shift she couldn't watch him go through pain anymore. She gave him an ultimatum to choose between her or his revenge plan for Scott; he apologised to her and told her that it was something he had to do, effectively ending their relationship, despite the fact Alicia had confessed her love for him.[33]
Later in the month, Alicia was shocked when the Ellissons once again turned up in the ED. She convinced Ethan to stay well out of their way. However, when Scott angered Ethan by intimidating another patient, he revealed that Mickey was sleeping with Jez. A fight ensued between Scott, Mickey and Jez on the first floor, which resulted in Scott falling over the balcony as Alicia and Charlie looked on in shock.[34] Scott was treated by Lily and eventually stabilised. Ethan went to visit Scott, but when he started choking Ethan just left resus without helping him. As a result, Scott died, and Alicia comforted Ethan by telling him the whole thing was over now.[35]
At the end of July, Alicia, Dylan, David and Louise went to France to provide medical aid at a refugee camp.[36] On her third day at the camp, she befriended a refugee woman named Hadia who she believed was being harassed by Said, a male refugee. However, it soon transpired that Said was trying to protect her from a volunteer named Emile who had been abducting women from the camp to make them work at his hotel. When she arrived at the hotel with Louise, Cameron and Said, Emile locked her in the storage room but she managed to escape and free the women. When Said collapsed after getting beaten by Emile and with no nearby medical services available, Alicia was forced to improvise and used a radio antenna to treat Said's tension pneumothorax. At the end of the trip, to help focus on becoming a better doctor, she decided to abstain from alcohol and men for a year.[37]
In August, Alicia wanted to apply for a place on a trauma course but needed to learn to drive first. She was delighted when Elle volunteered to be her driving instructor. On the road, Alicia failed to yield at a crossroad and broke off a woman's car door. When Alicia and Elle heard calls for help coming from a nearby house, they found the woman and her father trapped under a pile of rubbish. After paramedics took the daughter to the ED, Alicia stayed to convince her father to accept treatment. At the end of the day, Max agreed to be Alicia's driving instructor.[38] The following month, frustrated with her woeful driving skills, he hired a professional instructor for her.[39]
Personal life
Edit
A romance blossomed between Alicia and Ethan following the helicopter crash in 2016. However, at all opportunities for the relationship to move forward something seemed to get in the way. Towards the end of September, Alicia ended up kissing Cal and having a one night stand which left Ethan upset although he hid his emotions.[1] In October, Ethan was going to take Alicia to the hospital's awards night with him but Cal did instead in the end when Ethan opted out at the last minute.[15] Later in the month, they made their relationship official.[16]
In December, Ethan admitted to Alicia that he was in love with her, despite the fact she was still dating Cal.[18] On New Year's Eve, Alicia and Ethan kissed and spent the night together.[19] Alicia and Cal briefly went through a rough patch but later reconciled.[22] They broke up later in January after Cal kissed another woman.[23] In April, Ethan and Alicia went on a date after Cal gave them permission to. That night, Cal was stabbed and killed.[26] The following week, Ethan and Alicia shared a kiss as she agreed to support him through things.[28]
Behind the scenes
Edit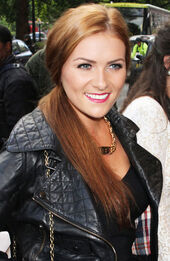 Chelsea Halfpenny portrayed Alicia Munroe on Casualty from September 2015 to January 2019. She initially appeared for two months towards the beginning of series 30, but it was confirmed that Halfpenny would reprise her role as Alicia in summer 2016. She returned in the final episode of the series and continued her role into series 31. Initial reaction to the character was positive, and fans and critics alike were mostly happy to hear of her return to the show in 2016.
Despite the character's initial positive response, a different side was shown to Alicia at the start of series 31, and many fans were frustrated with her treatment of Ethan. However, critics have noted that the change in character is a good thing, and has been a result of Lily's treatment of her the previous year.
Appearances
Edit
See also: Character appearances and Category:Alicia centric.
During her initial time in the ED, Alicia appeared in eight episodes between September and November 2015. She made her first appearance in "Cradle to the Grave" and her departure appearance seven episodes later in "Avoidable Harm". She returned to the show in the series' finale episode, "Sticks and Stones", and remained a series regular until the 20th episode of series 33. She had 12 centric episodes.
References
Edit
↑ 1.0 1.1 1.2 "Party Pooper" (S31, E06)
↑ 4.0 4.1 4.2 "Avoidable Harm" (S30, E11)
↑ 5.0 5.1 5.2 5.3 "Sticks and Stones" (S30, E43)
↑ 6.0 6.1 "Fall on Me" (S31, E02)
↑ "Best Served Cold" (S30, E10)
↑

Events partially took place in an episode that aired in July, but took place in-universe in August.

↑ 11.0 11.1 "Too Old for This Shift" (S31, E01)
↑ 12.0 12.1 "Pride Comes Before a Fall" (S31, E04)
↑ "Schoolboy Crush" (S31, E05)
↑ 14.0 14.1 "Too Much Love Will Kill You" (S31, E07)
↑ 15.0 15.1 "Night of the Loving Dead" (S31, E09)
↑ 16.0 16.1 "Shock to the System" (S31, E10)
↑ "Not in Holby Anymore" (S31, E13)
↑ 18.0 18.1 18.2 "All I Want for Christmas is You" (S31, E14)
↑ 19.0 19.1 "New Year, New Me, New You" (S31, E16)
↑ 20.0 20.1 "What Lurks in the Heart" (S31, E17)
↑ "Back to School" (S31, E18)
↑ 22.0 22.1 "Crazy Little Thing Called Love" (S31, E20)
↑ 23.0 23.1 "The Stag, the Dog and the Sheep" (S31, E21)
↑ 24.0 24.1 "Sleeping With the Enemy" (S31, E29)
↑ "When the Whistle Blows" (S31, E31)
↑ 26.0 26.1 26.2 "Reap the Whirlwind - Part Two" (S31, E33)
↑ "Reap the Whirlwind - Part One" (S31, E32)
↑ 28.0 28.1 "Break Point" (S31, E34)
↑ 29.0 29.1 "Don't Stand at My Grave and Weep" (S31, E38)
↑ "Swift Vengeance Waits" (S31, E37)
↑ "It Had to Be You" (S31, E39)
↑ "Somewhere Between Silences - Part One" (S31, E42)
↑ "Somewhere Between Silences - Part One" (S31, E43)